On November 4, 2021, the Occupational Safety and Health Administration (OSHA) filed an Emergency Temporary Standard (ETS) on COVID-19 vaccination and testing in the workplace.  The ETS establishes requirements for large employers (100+) – part-time employees do count towards the company total, but independent contractors do not.  January 4, 2022, is the scheduled deadline for employers to comply.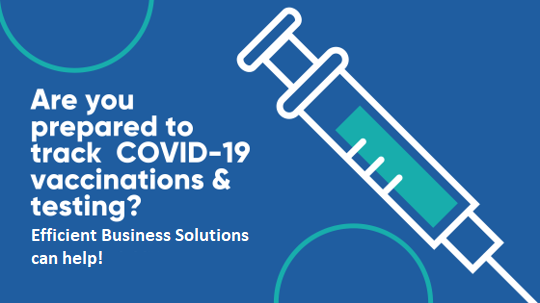 Under the ETS, employers are required to develop, implement, and enforce a workplace COVID-19 vaccination policy.  Employees will need to receive their final dose of the COVID-19 vaccine by the deadline, or if they choose not to, they are required to wear face coverings in the workplace & undergo weekly testing for COVID-19.  Additionally, this ETS preempts all state and local laws.
Here's what employers are required to do under the ETS:
Develop, implement, and enforce a mandatory vaccine policy.
Keep records of your employee's vaccination status and track weekly testing of unvaccinated employees.
Support vaccination by allowing paid time off to receive the vaccine or to recover from any side effects that occur after receiving the vaccine.
Enforce weekly testing or require an employee to test negative within 7 days of returning to the workplace.
If a vaccinated or non-vaccinated employee tests positive, immediately remove them from the workplace, until your policy criteria is met.
All unvaccinated employees must always wear face coverings in a workplace setting.
Report work-related COVID-19 fatalities to OSHA within 8 hours of learning about them, and any COVID-19 related hospitalizations within 24 hours of learning about the hospitalization.
Compliance & Penalties
All employers need to have a vaccine and testing policy to clarify whether the employer is mandating a vaccine by January 4, 2022, or if the employer does not mandate the vaccine – outline the company's policy on mask wearing, social distancing, and weekly testing requirements (and who pays for the testing).
OSHA plans to have programed or planned inspections, where agents go onsite to check that the business is in compliance with the mandate. For what OSHA refers to as willful penalties, the standard penalty is $13,653 for a single violation and the number would increase if there are multiple violations at a business and penalties can be up to $136,532.
Note: This blog is intended for general information purposes only and should not be construed as legal advice or opinion.  Contact a labor attorney with any questions about the use and enforcement of vaccine mandates.
Efficient Business Solutions is Releasing a New Feature to Help Employers Track COVID-19 Vaccines & Testing
Why is this important?
This new feature automates the tracking and related document storage of employee COVID-19 vaccination and testing. When it's time to show proof of your company's compliance with the new mandates, you'll have access to all the data in Efficient Business Solutions.
How does it work?
This is a new feature that will be available in Efficient Business Solutions Intuitive Digital Onboarding – here's a quick overview:
During onboarding we will gather COVID-19 all information for Vaccinations, Testing, Boosters, or Exemptions – applicable to the employee
Employees will be required to review and e-sign your COVID-19 Vaccine Policy
A dashboard with filters will allow the admin or manager to manage employee records, including the ability to upload verified documents
Track weekly testing for unvaccinated employees and ongoing weekly testing email reminders are automatically sent to unvaccinated employees
A few things to think about:
Start planning – what is your Policy? SHRM has some good info.
Be clear about expectations
Be ready for religious and medical accommodation requests
Be ready to track!
We are excited to launch this new feature to help employers gain efficiency and stay in compliance with vaccination and testing mandates. If you are a large employer and concerned about how you will manage compliance with the COVID-19 vaccine mandate, reach out to our Jim Fisher for more information today!